Luxury Yacht Charter Celebrations
Private Yacht Charters Out of Marina del Rey
No matter the inspiration for your private yacht charter, guests will be talking about this memorable way to celebrate for years to come. Escape the hustle and bustle and get a whole different view of Los Angeles, Marina del Rey, Playa Vista, Malibu, Venice Beach, Catalina Island, Two Harbors, or Santa Monica for your special event.
Warm sunshine, great music, no crowds, there really is no better way to celebrate than on a yacht. Get your favorite people together and have a party in style. These will be the memories you look back on for years to come.
Treat yourself, go on, you deserve it! Indulge in luxury and celebrate with a birthday party on a private yacht. There isn't a moment that won't have you smiling, laughing, and cheering. From selfies with sea lions and marveling at mega-yachts to cruising with dolphins and watching sunsets, this is truly the best way to spend a birthday. Our yachts are the perfect layout for your special day, with cushions to lay out for a tan and sundeck seating to enjoy the views, there is something for everyone. Turn the music up, grab a drink, and toast to the best year yet!
There isn't a better way to host a bachelor party than on a private yacht. Get your best men, head up the coast, and set anchor in a Malibu cove. Jump on our paddleboards, try to knock the groom off with a football, barbeque some surf and turf, and make sure the groom has a carefree day of non-stop fun. When it's time to head back, crack open a drink, light up a cigar, and toast to the man of the hour as you give him the sendoff he deserves.
The bride-to-be deserves to be pampered, spoiled, adored… having a bachelorette party on a private yacht is exactly what she imagined. With a female captain and female crew, your group can truly celebrate without the boys! Cruise the coast, soak up the sun, enjoy the sea life, take in the views, and give the bride a proper sendoff. Go all out and decorate the yacht, get matching outfits, and open gifts that make her laugh and cry. Give the bride what she wants, a day of luxury with her girls.
You and your team work hard and deserve a reward. Charter a private yacht for your corporate event and show your coworkers or employees how much you appreciate them. Spending time together in the fresh ocean air with fantastic views in a unique experience will help drive the positive culture you all strive for. Whether it's a sunset harbor cruise or larger catered event,
our yachts provide an elegant aesthetic for a professional setting and have all the amenities needed for a catered event. Show your team how much you think of them with a yacht charter today.
Family comes first, so charter a private yacht to enjoy some quality time with those you love. As the most populated city in the country, it can be hard to find intimate activities that you can enjoy just as a family. A day on the water gives you just that, time away to relax and have fun together. As a fully licensed business with the county and harbor with US Coast Guard certified captains, you can trust our team with those dearest to you. So grab the kids, load up on the sunscreen, and come spend time with us checking out the sea lions, paddleboarding the coves, eating a meal alfresco, and making memories that last.
These are days specifically set aside for celebrating, don't let the good times pass you by. Book a private yacht and cruise the seas under the fireworks or in a santa hat, either way this will be the best holiday you can remember.
Memorial/Labor Day/4th of July
The perfect start and end to summer is a private yachting experience. These are either the first or last days of summer sun so get out on the water and soak up those rays. Make the most of your holiday and long weekend by spending it with friends and family in a unique way. Who needs a backyard barbeque with a George Foreman grill and cooler of ice when you can cruise the Santa Monica bay with a grill on the top deck, a fully stocked fridge, and music playing through every level? It'll be winter before you know it, so give cheers to sunburns that are totally worth it.
Mother's Day/Father's Day
They've done so much for you. What better way to say "thanks" than setting up a custom yacht cruise for mom or dad? Whether you're looking for an intimate family cruise for brunch or an overnight trip to Catalina Island to really spoil them, you'll impress the entire invite list for with a luxury yacht charter to see some of the best natural beauty California has to offer. Pay them back for all the yacht charters they missed raising you and give them the day on the water they deserve.
Note: We are happy to provide a female captain and crew for Mother's Day events on request.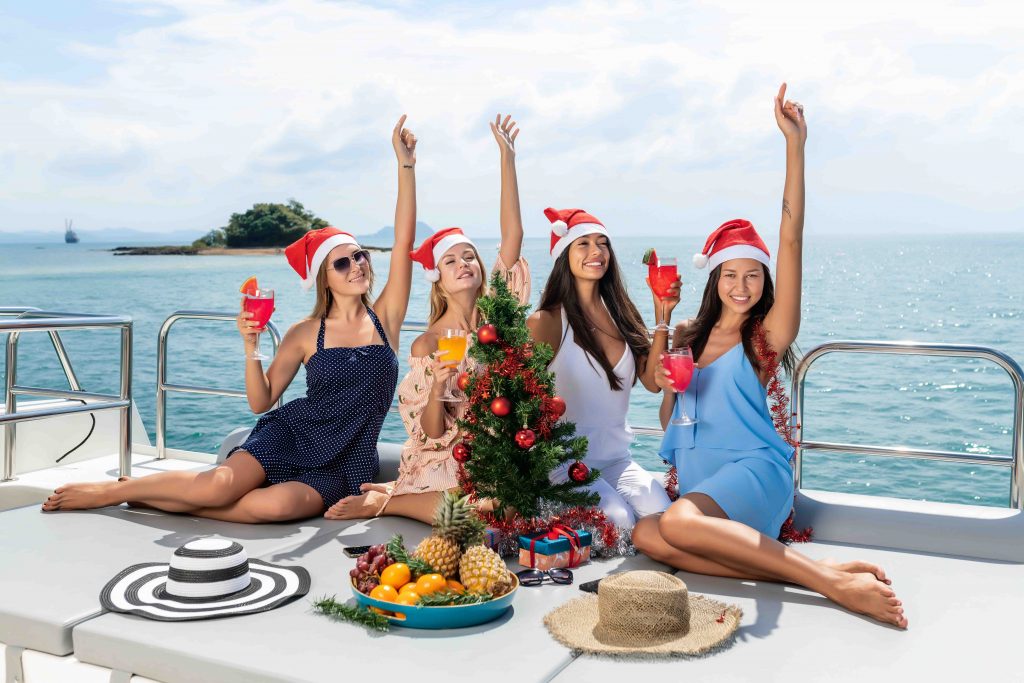 We spend our those we love the most, but with in-laws, siblings, friends, and kids, we can't always celebrate with everyone on the actual holiday. So make the time you do spend together special by chartering a private yacht. Imagine exchanging gifts at sunset from aboard one of our beautiful yachts or celebrating a special lunch before you swim, kayak, and paddleboard in the gorgeous waters of the California coast. No matter how you spend it, a personal yacht charter is a gift in itself and one you'll never forget.
Celebrate the new year with a private yacht for new year's. Give the end of the year a proper sendoff and start the new year in luxury. Get dressed up, have hors d'oeuvres catered, and drinks made by a bartender while you ring in the New Year. It's the new year's party everyone will want an invite to.
There are a few moments in our lives that truly stand out from the rest. Turn your special occasion into something extraordinary by booking a private yacht. Providing a blend of luxury, excitement, and uniqueness, this is a remarkable way to make something truly unforgettable
Looking for an intimate proposal idea for the most romantic engagement? Our yachts and the California coast make the perfect setting for your special event. Cruise the coast and enjoy the beautiful scenery before getting down on one knee just as the sun sets. Celebrate together with a bottle of champagne, catered hors d'oeuvres, and his or her favorite flowers. For an added surprise, let family and friends celebrate without giving everything away by hiding them in a stateroom until she says yes! You can even have a photographer / videographer / drone pilot pose as a crew member to stealthily capture the emotions and memories that will last a lifetime.
Proposing on a yacht will tell them you love them and want to spend the rest of your lives together in a way that makes them feel as special as they are.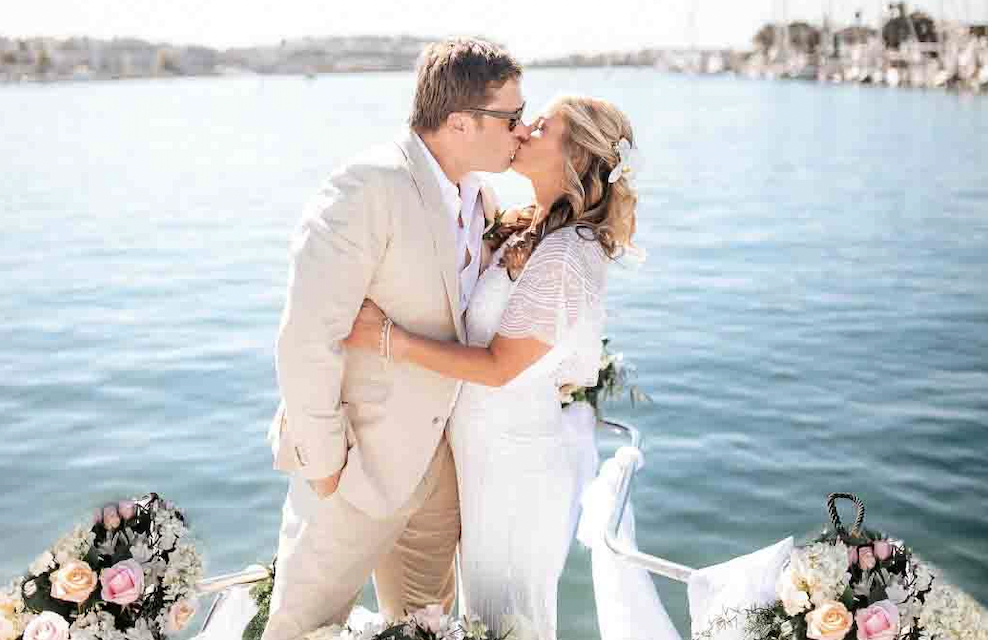 One of the most memorable days of your lives should be celebrated in a truly unique way. Combine the beautiful pacific and stunning Malibu coast with the high-end luxury of our yachts for the perfect wedding venue. Turn the bow into a beautiful stage for the vows with flowers covering the rails and uninterrupted views on all sides. Decorate the aft for a dedicated location to host food, drinks, and most importantly, the cake. Turn the bridge into a stage and enjoy the first dance together and then party the night away with friends and family.
Chartering your private yacht for a wedding a sea will be everything you imagined; gorgeous, intimate, exciting, and memorable. Your guests will rave about it, and you'll never forget it.
Throw a baby shower you'll love and that your friends will never forget. Our yachts have the perfect layout for celebrating the parents-to-be. Cruise the coastline as you soak up the sun and enjoy drinks and hors d'oeuvres. Bring the entire group together on the aft deck or bow and open the presents with a view. This is the first time you get to celebrate something that will bring you joy for a lifetime. Make it a memory that stands out.
A private yacht charter provides an intimate setting for a scattering of ashes (often referred to as a burial at sea). Spend time with those closest to you as you cherish your loved one and the legacy they left behind. The layout of our yachts provides space for small groups to gather and reminisce and large areas for everyone to be together for the memorian of life. Our experienced crew can help position the yacht so flower petals and wreaths can be placed in the water to drift in the current with the ashes. Trust our experience so your thoughts can be with your loved one.
FOR A FANTASTIC AND MEMORABLE EXPERIENCE…
Let us create the perfect package for you!