Luxury Yacht Charter Activities
Private Yacht Charters Out of Marina del Rey
There's no shortage of things to do when you charter your own private yacht. No matter the size of your group or the reason for your private cruise, the below activities can turn your day on the water into an experience so good you'll want to keep coming back until you've tried them all.
Jump in and splash around for some summertime fun or kick your feet up and enjoy the view for a relaxing cruise. Time on a yacht is fun all by itself, but why not make the most of your charter and spend time enjoying these exciting activities.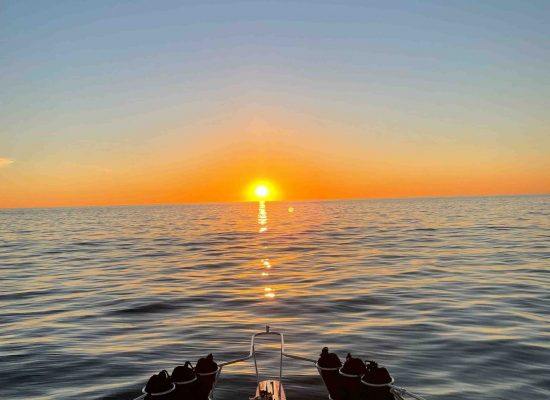 There's nothing quite like a west coast sunset to capture your attention and put the whole world on pause. On a sunset cruise there is nothing between you and the horizon as you watch the sun set behind the water. If you don't have time to get away with a daylong yacht trip, a sunset cruise is a great way to end the day.
Dolphin Watching & Whale Watching
There's nothing quite like watching dolphins play in the open water; jumping above the surface, swimming in the yacht's waves, and dancing just below you as you watch from the bow. Whale watching and dolphin sightings are so much more memorable when it's on a private charter with your friends and family where you can relax and enjoy the luxury of the yacht while you watch the horizon for these beautiful animals.
Paddleboarding & Kayaking
Stepping off your yacht and onto our paddleboard, or into your kayak, in a secluded cove is a truly unparalleled way spend your time on the water. Layout on the paddleboard and drift lazily alongside the boat as you work on your tan without fighting the crowded Los Angeles beaches. Venture away from the yacht and feel completely connected to the sea as you explore the kelp forests. No matter your pace, our charter yacht's inflatable toys open a world of new experiences.
Swimming & Inflatable Islands
Experience the gorgeous views during your yacht cruises the coastline and then experience the incredible waters by dropping anchor and getting in. Grab hands as an entire group and have our crew snap a photo as you all jump in together, it's a memory everyone will treasure. Not feeling like getting all the way in, step off the back of the yacht and onto our floating island stocked with ice cold drinks. Whether you're swimming in the waves, floating on the surface, or diving in from above, this is how yacht charters are supposed to feel.
Go beyond the backyard barbecue and grill in style on one of our stunning yachts; it will bring surf and turf to a whole new level. Don't want the distraction of cooking, have our crew grill for
you or add a private chef to your charter to enjoy a meal alfresco. Make the most of our luxury yachts and spend the day, no need to rush back for dinner when you can eat while watching the sunset from your yacht.
Start your day with some morning paddleboard yoga, head to the farmer's market to pick up brunch to enjoy during your charter, end the day dropped off by yacht at a waterfront restaurant. Package your charter with the below activities and create an absolutely remarkable day.
Our luxury yachts are built for life at sea, get the full experience with an overnight charter to Catalina Island. Wakeup with coffee, or mimosas, on the bow as the sun rises over the California coast and end the night with a dinner on the aft deck as the sun sets behind the island. Fill the time in between paddleboarding the shallow waters, getting a dinghy tour of the private coves, and head to shore to enjoy all the activities Catalina has to offer. There is a world class vacation waiting you in LA's backyard. Don't miss out on this magical experience.
Descanso Beach DJ Parties
Attend Avalon Catalina's Descanso Beach DJ Parties in luxury by chartering a private yacht to the island. Cruise the channel as you sip mimosas and watch for dolphins. Get taken to shore by dinghy and enjoy the summertime vibes as you enjoy live music and party with friends. Celebrate summer in style and charter our yachts to take you straight to the party.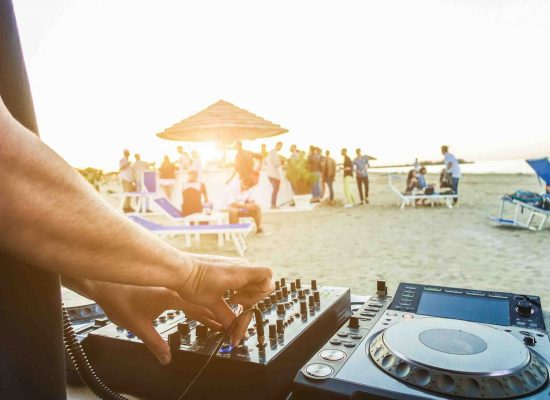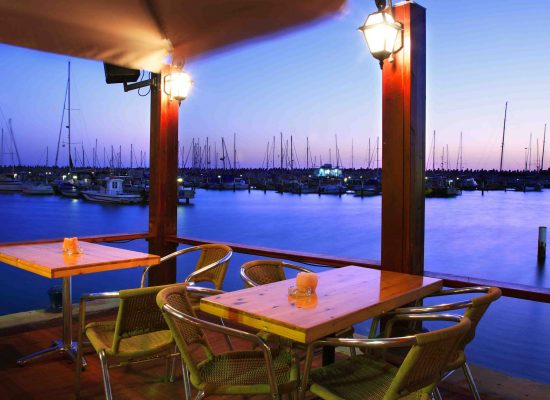 Enjoy your charter cruising the coast and chasing dolphins. Let our luxury yacht drop you off for the evening at a restaurant with dockside dining. Some of our recommendations include:
Killer Shrimp & Killer Sushi (Marina del Rey): Eat at the restaurant or pull up to the dock and get your food delivered to the yacht.
Brizo by Marriott (Marina del Rey): Eat at the restaurant or pull up to the dock and get your food delivered to the yacht.
Fisherman's Village (Marina del Rey): Get dropped off at the end of your charter for any of their great restaurants; Sapori, Whiskey Reds, El Torito, Lighthouse Fountain & Grill.
Catalina Island (Avalon & two Harbors): Get dropped off at shore during your charter and visit Bluewater Grill, Avalon Grille, the Lobster Trap, or Harbor Reef.
Turn your yacht trip into a full day event of when by pairing your charter with one of the unique activities hosted in Marina del Rey.
Marina del Rey Free Summer Concerts – Get a truly unique seat to Marina del Rey's Free Summer Concerts by listening from your own private yacht. Pair it with a private chef for a memorable relaxing evening.

Marina Movie Nights at Burton Chace Park & Jamaica Bay Inn – After a day of fun in the sun spent cruising the coast on your yacht, end the night with an outdoor movie on the lawn.

Paddleboard Yoga by YogAqua – Get your zen and your sweat on with a Vinyasa Yoga class on paddleboards in the harbor and then get your summertime vibes on with a private yacht charter up the coast.

Wednesday Sunset Series Regattas – Get a front row view to the magic of a sailboat race by chartering a yacht during Marina del Rey's summer racing regattas. No hard work hoisting sails required; just kick back and relax with a great view from our yachts. These events happen from April 13th-September 7th.

Thursday Night Beach Eats Food Trucks – From May to September on Thursday nights, savor a fun night at this food truck event. It's the perfect way to wrap up your charter. After a fun day on the water, you'll eat like a local with dinner next to Mother's Beach.

Saturday Morning Farmer's Market – Stop by the Marina del Rey farmer's market and grab your morning coffee and breakfast pastries for brunch during your luxury yacht charter.

 
A yacht charter for photo, video, or film shoots provides an incredible level of luxury; and our yachts offer all the amenities needed. Our yachts' spacious layouts provide a variety of shooting settings, all with modern furniture and an elegant design. Multiple rooms throughout the yacht ensure there is space for crew and gear. Multiple bedrooms with ensuite bathrooms provide private space for wardrobe changes and hair and makeup. Full kitchens give caterers and chefs space to serve the whole crew. Our knowledgeable crew will help you identify the best spaces on the yacht or locations along the coast for one-of-a-kind pictures and video. Whether your project is for television, music videos, news programs, print ads, movies, magazine shoots, advertisements, social medial, or blogs and vlogs we are happy to provide the yachts that will set your shoot apart.
These only come around once a year and definitely aren't worth missing. Charter a private yacht for a luxurious way to enjoy some of Los Angeles' most exciting events. Book for a day and have as much fun as you can possibly fit in or book for a weekend and enjoy lavish living for days on end.
Catalina Wine Mixer (Avalon) & Summer Wine Festival (Two Harbors) & Brewfest (Two Harbors
Make your experience at the Catalina Wine Mixer a luxury one by chartering our yachts to get you to and from the island or charter an overnight trip and blend time at the festival with time on your own yacht. Channel your inner Will Ferrell and pay homage to the classic comedy Step Brothers. Screen the movie, attend a wine tasting, dance your heart out at live concerts, and celebrate at a VIP reception. If you love Avalon's Wine Mixer, try Two Harbor's Wine Festival. You'll enjoy great wine with dozens of tasting opportunities for local and imported wine, and endless fun photo booths, silent auctions, and live music. If wine isn't your thing, pair your beer flight with a private yacht charter and head to Two Harbors for the annual Microbrew Fest. Sip from your choice of microbrews with live music after your trip over on the yacht. Make one of these festivals a memory for life and charter your own yacht for an island getaway.
Buccaneer Days (Two Harbors)
There isn't an event like it! Get your mates, pull together your best pirate costumes, and charter your own yacht to this iconic island event; just don't forget the rum. Outstanding food, live entertainment, costume contests, and treasure hunts are just a few favorites. Charter a yacht for a day of fun or spend the weekend and don't miss out on any of the fun. Either way, you'll be sure to arrive like a true pirate, aboard your own ship!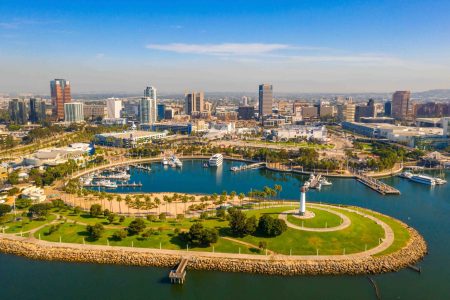 Long Beach Grand Prix (LA Harbor)
Experience the Long Beach Grand Prix like it's the Monaco Grand Prix and charter a private yacht. Spend a day, or the entire weekend, in luxury. Our crew will dinghy you to the shore for the races. Afterward, head back to the yacht and let the celebrations continue or relax and enjoy a sunset over the water.
Enjoy a meal with an onboard chef or let our crew take you to a dockside restaurant to wind down from the big day. This is a truly luxurious way to enjoy the races and one that you'll never forget.
Holiday Boat Parade (Marina del Rey)
Enjoy a holiday party with friends or family on a private yacht while dozens of boats decorated with lights and crew in costumes pass you by in their attempt to win the "best in show" prize. The best way to enjoy this special December evening event is with a catered meal or onboard chef. Start your charter with a sunset cruise before the parade kicks off. If you're looking for a unique corporate holiday party, this is one that employees won't be able to stop talking about. Whether you're watching with family, friends, coworkers, or all three, this is a magical night you have to experience.
Eclipses & Meteor Showers (Anywhere)
Turn your sunset charter into something magical and stay on the water after dark for a unique way to watch a meteor shower or lunar eclipse. Escape the light pollution of Los Angeles and get out under the open sky. Way out on the water, curl up under a blanket and lay back to watch the night sky as the stars fall and the ocean rolls. This is the most romantic way to enjoy the yacht after taking a sunset cruise or spending a long day at the island.
Microbrew Fest (Two Harbors)
Pair your beer flight with a private yacht charter and head to Two Harbors for the annual Microbrew Fest. Sip from your choice of microbrews with live music after your trip over on the yacht. This is the perfect excuse to get away from it all and find a new favorite beer!
FOR A FANTASTIC AND MEMORABLE EXPERIENCE…
Let us create the perfect package for you!